We Make Digital Transformations
Working with clients to activate boardroom strategies and deliver game-changing results.
NDMC is a UK boardroom and digital strategy consultancy with a pioneering spirit.  Our team has built a reputation over two decades for delivering outcomes no other agency can deliver.  Read our story.
More..
Video
Why Your Business Needs a Digital Transformation Platform
Businesses that invest in a digital ecosystem typically grow 15% faster than their rivals.
Find out why, and what you're missing.
How Digital Transformation is changing in 2021
 Growth isn't achieved by ad-hoc steps fragmented technology, or knee-jerk marketing
Designing Customer Experience
In hyper-competitive markets, your business will only stand out when it delivers an above and beyond brand experience. To achieve that requires a blend of strategy, model, design, people, process, technology and data. NDMC is a full-service customer experience company. We blend the traditional skills of a marketing agency with advisory skills and game-changing technologies to deliver your outcomes.
Making Data Driven Decisions
Customer forensics goes beyond anything you've thought of before when it comes to turning data into value.  It's about TRULY putting the customer at the heart of your data design approach.  It means you will know which markets and prospects are the most attractive to target, which accounts are the most profitable to grow, which go-to-market strategies work best, and which products work best.
How do you design a better customer experience?
of customer buying cycle happens online
of managers say they lack the insights to make informed decisions
of marketing spend goes into retaining and expanding accounts
of site visitors don't go any further
In a digital world, every business needs to be empowered by machines and insight.  Creating near-real-time views of the business critical data landscapes that businesses need is something we've been doing for 20-years.
We fine-tune customer experience through re-shaped processes, underpinned by the latest in cloud innovations.  Early pioneers in the development of Customer Data Platforms (CDPs), we continue to supply organizations the means to answer business-critical questions through rich data insights.
We help to focus your boardroom strategy and digital transformation to achieve measurable outcomes.  Our data engineering framework allows us to build digital transformation platforms faster.
Our Work
We use well tried management consulting principles, underpinned by proprietary data engineering methods and technology, to achieve outcomes above and beyond expectations.  It means we can achieve the results you need faster, better – delivering projects on-time and on-budget.
Read more…
Our Solutions
We work with our clients to execute boardroom strategies and shape best-in-class digital transformations; to design and apply technology to meet their business challenges, fine-tune digital ecosystems, and to realize the full potential of being a data-driven business.
Read more…
Our Products
Our data engineering solutions and software applications serve discrete process requirements.  They bridge between systems and fill the gap between core business systems and the full extent of the digital platform needed to support your business model.
Read more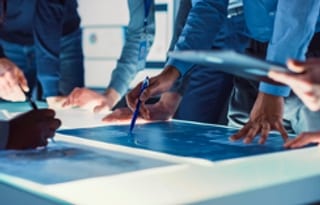 Hyper-Automation Explained
Hyper-Automation describes a multi-disciplinary approach to finding the best answers to process automations.  We know that machines can process more data, more accurately than humans – but humans continue to be the best fit for any number of automation needs. Learn more.
Why GlueWare Is Taking Over
While digital technologies are becoming better understood and more capable, the greater challenge lies in embedding advanced technologies into business models and incumbent process. Discover how GlueWare technologies can be used to simplify the automation of cross-functional process steps.
Is Your Cloud Strategy Falling Short?
A decade ago, every tech headline was pointing to the advantages of moving to SaaS apps and cloud hosting.  With a decade of learning experience (and migrations), the role of the cloud is shifting from fundamentals to incremental value.  Find out what you might still be missing from your cloud strategy?
Your Business. Your Brand. Your Customer Value. Your Customer Experience. Your Organizational Design. Your Digital Transformation.
We work with leadership teams around the world to turn business dreams into profitable returns
BUSINESS SUCCESS.  It begins with an idea and insights that surface a new way of creating value to a community of customers.  To drive growth, you'll need to engage with prospective customers in ways that will bring them to your door; have a conversation. Then, you will need a business model supported by an organizational design – fuelled by resources and rich data insights – to orchestrate your economic engine and turn customer value into profits.  NDMC is passionate about partnering with our clients to transform customer experience and drive business value.
Got a project to discuss?
NDMC has a reputation for solving business challenges no other digital agency can overcome. It comes down to the passion of an awesome team of people that put clients first and our unrivalled proprietary methods and tools.